Conservatory Blinds
Once you have built your conservatory, you will need to consider the decor and ambient temperature within the conservatory. One of the most stylish ways to keep the temperature of your conservatory bearable, both in summer and in winter is to get a set of conservatory blinds. These can help by keeping the direct rays of the sun off your conservatory during the height of summer and by providing a little extra insulation during the deep midwinter.
What Types of Blinds Are Available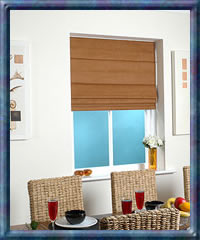 To start with you can get both window blinds and roof blinds for your conservatory, this allows you to have complete control on the levels of direct sunlight that are allowed into the conservatory.
You can get most types of blinds for a conservatory including pleated blinds, roman blinds, venetian blinds, vertical blinds and roller blinds. Most people opt for pleated or roman blinds for their conservatory.
Pleated Blinds
Pleated blinds are made of cloth and fold up as they area opened up to give a small footprint on the window when completely open. They are suitable for both the windows and the roof lights of your conservatory.
Roman Blinds
With their clean, sophisticated lines, Roman blinds, or Roman shades as they are sometimes known, are one of the most stylish ways to dress up a window. The Roman blind folds up the material of the blind into a number of fairly larg loops which close tightly together when the blind is full open. While not having as small a footprint on the window area as pleated blinds roman blinds are still effective for both window and roof light areas of the consevatory.
Roller Blinds
The traditional roller blind can also be extended for use on conservatory roof lights and windows, although care must be taken to ensure that the blinds are made such that they don't suffer the nasty curl at the edges which so often destroys the overall effect of the blinds.
Venetian Blinds
The traditional venetian blind has fairly narrow slats which can be adjusted to from vertical to horizontal positions to block out the sun when required.
Vertical Blinds
Vertical blinds are usually plasticised cloth for durability and have vertical slats often about 3" across. The vertical blind covers the full length of the window or conservatory and is tidied away to one side of the window area, in contrast to most other blinds which are at the top of a window.
Wood Blinds
Wood blinds are usually venetial style blinds, but tend to have flatter slats that other blinds to keep as much strength of the wood as possible.