Conservatory Furniture - Does It Have To Be Cane?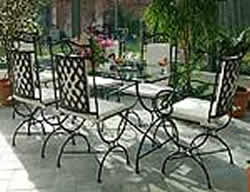 Traditionally everyone buys some cane furniture for their conservatory and although there is nothing wrong with this, it is cheap after all there are other options nowadays. We'll discuss the obvious cane furniture first and then go on to some more trendy options.
Cane Furniture
Although traditionally the furniture of choice for conservatories, cane furniture can be very annoying as it ages, splits and fraying tend to cause snagging on clothing and are unsightly. However there are some great ranges of cane furniture available (such as that shown at Conservatories Online)
Willow Furniture
Willow furniture is very similar to cane furniture, but is made from traditional English willow and can provide an option for local materials in keeping with an Arts & Crafts look.
Rattan Furniture
Rattan furniture is generally used to described thicker cane furniture (often with binding). This type of furniture tends to be more longer lasting than traditional cane furniture and provides another different look.
The Modern Options - Metal & Glass
Metal and glass furniture is a new and stylish way to fit out your conservatory (although whether it can truly be considered new is a moot point as much of the design takes its influence from Vitorian wrought iron furnishings). Modern metal furniture is much lighter than its counterparts of yesteryear and has striking lines as can be seen from some of the styles available from Holloways.