The Timber Conservatory - An Alternative to uPVC?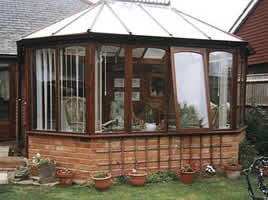 If you are looking for ease of maintenance then the answer to this question is a resounding NO. However there are many advantages of the timber conservatory, whether, Europeand Oak or Mahogany in construction, wood is a traditional building material and is considerably lighter than uPVC.
The hardwood conservatory is also a very attractive option for listed buildings where the use of uPVC is not in keeping with the original building, also a hardwood conservatory can be finished in almost any colour your wish, assuming you really want to hide the fantastic finish that is given by the varnished wood itself. The best known supplier of timber conservatories in the UK is Baltic Pine who have a fine selection of timber conservatories in Victorian, Edwardian, Georgian and other styles.
Mahogany or Oak
Mahogany is longer lasting and genrally produces a higher lustre in its finish, the grain providing some particularly fine features, however a mahogany conservatory can look a bit dark and overbearing when compared with the lighter colour of Oak. Additionally if you really want to be traditional Oak is a locally grown wood whereas almost all mahogany is imported.
More Decorative Features
A hardwood timber conservatory can be much more ornately built than its uPVC counterpart allowing arches fans and other structural detail to be included in the design, though costs will increase the more detail you include in your design.