PVC Conservatory Types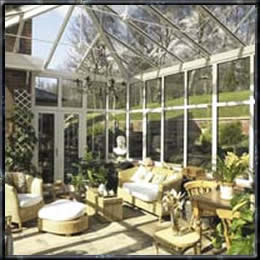 There are a number of types of PVC Conservatory, with the most famous being the white, PVCU (often known as UPVC), framed structures. nowadays however you can also get PVC conservatories in wood effects, from dark mahogany coloured through to light oak
Benefits
The main benefit of the PVC conservatory is that it requires almost no maintenance, once it has been installed. Also discolouration which used to be a problem can now be guaranteed against.
From a security point of view the internally beaded PVC systems are considered the most secure and most conservatory panels can be fitted with the same locking systems as on modern double glazing providing an extra level of security.
The Frame Is To Thick?
Depth or thickness of frame. Actual depth of frame varies 50 mm to some at 70 mm and above. Most frames are in the 60 mm to 65 mm region. This has an effect on the overall structural strength of your conservatory, which should be born in mind when doing price comparisons. For the most part the thicker the conservatory frame, the stronger the conservatory.
PVC, PVCU, uPVC, PVC-U or PVCu
All of the above essentially refer to the same material, so if you are comparing prices do not be put off by the difference in the material name, look closely at the specifications for thickness, strength, heat retention and the like.